Black people, did you know that November is National Name Change Month? This is the month that we raise awareness about the need for Black people to change their last names to an African one. Simply put, the last name that you are currently using most likely came about in one of two ways:
1. It was assigned to one of your ancestors during their enslavement in America. The name originally, however, belonged to a White plantation owner. If this is the case, your last name is literally describing you today… in 2017… as "Mr. So-and-So's" nigger!
2. It was chosen by one of your ancestors after slavery was abolished. The name was probably randomly selected from a sea of other European names popular at that time, because that's all our ancestors were exposed to… European names! In some cases, they even adopted the name of a previous owner themselves.
While the second description is a more desirable one and one that was, technically, freely chosen, it is still problematic in that it is still the name belonging to some European family and does not give consideration to your African roots. Generations removed from Africa by the time they were allowed to rename themselves, our ancestors didn't know any African surnames. While we also don't know what any of our original surnames were, we do know that they weren't European and, unlike our ancestors, we do have access to the tools and information that will help us choose new, more suitable names.
There are actually other explanations for your last name, such as White census takers randomly assigning last names to freed Black women and men who didn't yet have a last name. But the point here is that, no matter how you came to receive your last name, it originally belonged to a White European, not a Black African.
Consider This…
So, you're thinking, "Okay, this sounds interesting enough, but why would I take the time to actually change a name that my family has used for hundreds of years? We've used it for so long that it feels like our own by now." It's understandable that many will feel that way, but the fact is that it still links you, in one way or the other, to the awful institution of slavery and White supremacy in America. In an effort to reclaim who we are, to love the "African" part of our "African-American" identity, it is important to take pride and dignity in reconnecting ourselves to the continent and to our ancestors by renaming not just ourselves, but selecting an African name that will be carried on throughout our future generations.
At a time when political protests are in the headlines everyday, what is a more powerful protest than taking ownership of yourselves and making a bold statement about your identity as Africans living in America?
So, we've decided that November will be the month every year where we spotlight this issue. The month where we go hard in encouraging Black people to take personal action and personal responsibility for what we call ourselves. So spread the word that November is National Name Change Month and be sure to tag your social media posts with the #NaNaChaMo hashtag so that we can have a broader conversation about this month with all of our brothers and sisters throughout the diaspora.
There are plenty of sites that will help you discover name origins and here's one that offers a list of 150 common African last names and their meanings.
Take Action
Your help is needed to spread the word about NaNaChaMo. We aren't waiting for the government to declare it a national month, WE are declaring it for ourselves. So, please pass the word on by:
Sharing this post with your friends and family
Blogging about National Name Change Month on your personal blog
Spreading the word on social media using the hashtag #NaNaChaMo
Sharing your thoughts, opinions and questions about NaNaChaMo in the comment well below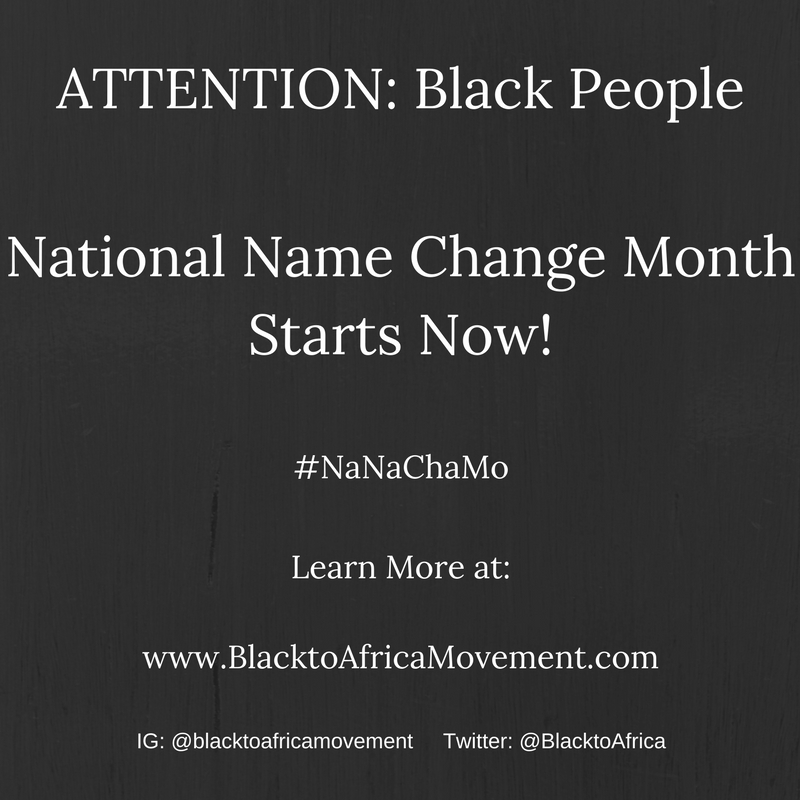 And if you haven't previously done so, please take the time to read our earlier posts on National Name Change Month and the 6 Black Imperatives for Black People (which includes name changing). Remember, going back to Africa won't mean the same for everyone. Some of you just aren't ready to make that big move. For many of you, going "back to Africa" will simply mean changing your state of mind to a more African-centered awareness and this begins with steps like ridding yourself of the slavemaster's label and replacing your last name with one more respectful of your TRUE ancestry, instead.
So What Do You Think?
The floor is now yours and your opinions on National Name Change Month are welcome below. Have you changed your last name before? How many of you are already representing yourselves with African surnames? Let your voice be heard on the matter now!